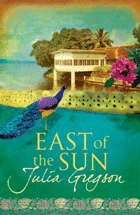 I'm not sure where I first heard of Julia Gregson's
East of the Sun: A Novel
, but it was well before it was published in the states. It was
this review
by Harriet Devine that made me decide for once and for all that I needed to give this book a try. I was lucky enough to mooch a copy with that gorgeous cover you see above. The US edition is nice looking, but I think this aquamarine cover is just sublime.
East of the Sun takes place in 1928 and is the story of three women. Viva is an orphaned young woman trying to get her fare paid to India where her parents died and where she is searching for a piece of her past. Viva becomes the chaperone for Rose and Victoria (Tor). Rose is traveling to India to marry a military man whom she has only known a short time. She is sad to leave her family and nervous about her new life. In contrast, Tor, Rose's bridesmaid, is thrilled to finally have some freedom and cannot wait to get out from under her mother's watch and experience life. Also traveling under Viva's care is Guy, a troubled teen who has been educated in England (until he was expelled) while his parents lived in India. Guy becomes rather a troublesome influence in Viva's life; he is somewhat mentally disturbed.
The first part of the book is about the actual trip to India. Later on we follow Viva as she tries to eek out a living, Rose, as she becomes accustomed to married life, and Tor as she seeks romance, for she does not want to be sent home, unmarried and ashamed. I think Viva was my favorite character to read about. Her struggles were the most interesting as well as her life living and working amongst the native people of India. I found Rose's story fascinating as well, the idea that a beautiful young woman would leave her family, possibly forever, to marry a man she barely knows. I'm reading another book right now, a nonfiction book about the lack of men to marry after WW1. Perhaps that is why Rose took a risk.
I found East of the Sun to be the perfect sort of comfort reading for me. I read it on vacation and it was the perfect book to fall into and escape with at the end of the day. I don't know that it would survive harsh literary criticism, but I have to say I sort of loved it. Loved the girls and their relationships, loved the romance, loved the setting in India where the Indian people are beginning to chafe under British rule.
It was a compelling read for me, so much so, that I have Gregson's other published novel,
The Water Horse
, winging its way to me from England as I write.