Terry Walters believes that in order to nourish our bodies we should eat food as close to the natural source as possible. Her new cookbook,
Clean Food: A Seasonal Guide to Eating Close to the Source with More Than 200 Recipes for a Healthy and Sustainable You
,is being released today and illustrates her philosophy with delicious sounding recipes.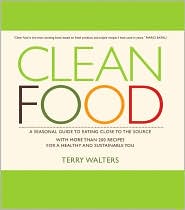 For the last couple of years I've personally decreased the amount of meat in my family's diet. At first I found it to be a challenge, now it feels ordinary. When I was offered
Clean Food
for review, I thought it sounded like a good fit for me. While we do eat plenty of vegetarian meals, it would be nice to sometimes eat even lower on the food chain, that is to say vegan, and I thought I could use some ideas.
I've only had a chance to try one recipe from Clean Food so far, that for Fruity Balsamic Vinaigrette and it is a winner. This vinaigrette is lighter than the usual salad dressing I prepare, the juices contained in it balance out the olive oil to create a wonderful dressing we all enjoyed. Other recipes that I haven't made yet but have marked to try include: Sesame Brussels Sprout Saute (you know how I love my brussels!), Crispy Chickpea Fritters, Millet Black Bean Patties with Corn, Black Bean Patties with Pineapple Guacamole (!!), Spiced Sweet Potato Fries, Sweet Dumpling Squash with Orange Scented Quinoa Stuffing, and Wild Rice Pilaf. I could go on.
While many of the recipes use ingredients that are common in my kitchen, there are ingredients that are new to me as well such as sea vegetables, various condiments (that frankly, I've seen at the store and always wondered about), and different types of flours, grains, and beans. Walters often uses kombu, a sea vegetable when cooking grains or beans. She writes that it adds minerals and tenderizes legumes. I'd heard about kombu before, but have finally been inspired to buy some and will try it the next time I cook a pot of beans.
I noticed early on that the recipes didn't contain wheat -I wondered why- then Walters mentioned that one her children had sensitivities to wheat, corn, soy, and dairy. It all made sense to me then, and I realized what a great resource this book could be for families with similar food allergies. There are loads of yummy sounding desserts in the book that are dairy-free, gluten-free, you name it. These sorts of recipes are a God-send for families that struggle with what to prepare for allergic children.
If you're interested in Clean Food, I suggest checking out
Terry's website
. There is more information about Terry's philosophy about food and cooking as well as fun videos of her cooking and shopping.
Many thanks to Megan with Sterling Publishing for sending me Clean Food for review.