I'm feeling all out of sorts today. It's been a strange stretch of days here. Late last week when I was taking both members of my family to the doctor I was feeling all smug and healthy when suddenly my stomach started hurting. Ugh! So most of my weekend was spent in pain in the hopes that it wouldn't move to my right side (appendix) - it didn't. Whew. What else? It's freezing here! I actually broke down and turned on the heat last night after pulling out my down comforter and fuzzy socks on Friday night. Brrr! And today is the Last Day of First Grade. I can't believe it! I get stressed during change and next week my girl is starting a new camp with new people And I'm not sure how it's going to go And I work weird hours so our schedule is kind of wacky And I'm trying not to be
annoying
, I really do not want to be
annoying
but I want to make sure everything goes well next week And that the people don't think we're crazy because of our crazy schedule. Whew. Not to mention, that the place where the camp is is a place where we might want the girl to go to school someday so I want to make a good impression. Yep, I'm stressed.
So, should we talk about books now? Okay.
Well, after I finished
Molly Wizenberg's A Homemade Life
, I naturally did a little google searching looking for interviews and such. I came across the blog of Adam Roberts,
The Amateur Gourmet
and realized he had a book. Something about him sparked my interest as well as the fact that there was apparently a chapter in his book in which he dines with foodie extraordinaire Ruch Reichl, so I picked up his book, aptly named
The Amateur Gourmet: How to Shop, Chop and Table-Hop Like a Pro (Almost)
at the library.
Roberts comes from a family where reservations are made instead of dinner and he did not begin cooking for himself until adulthood, though he's quite able now. Besides the dinner with Reichl (which I
loved
), highlights of the book include how to shop at the grocery store or farmers' market and a trip to a famous knife sharpener. This is a good book for beginning cooks - Roberts aims to take the fear out of cooking, or for cooks like myself who are interested in the inner food world. The book is a short quick read (less than two hours, I'd say), and Roberts has a fun and easygoing voice. I recommend it - especially if you get it from your library.
Next!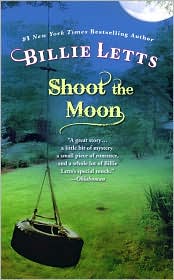 I won
Shoot the Moon
by Billie Letts - I think it was practically impossible not to win a copy there were so many giveaways a while back. I was looking forward to this book since I'd heard good things about the author (Oprah-approved) and the premise sounded interesting.
In 1972, windswept DeClare, Oklahoma, was consumed by the murder of a young mother, Gaylene Harjo, and the disappearance of her baby, Nicky Jack. When the child's pajama bottoms were discovered on the banks of Willow Creek, everyone feared that he, too, had been killed, although his body was never found.

Nearly thirty years later, Nicky Jack mysteriously returns to DeClare, shocking the town and stirring up long-buried memories. But what he discovers about the night he vanished is more astonishing than he or anyone could have imagine. Piece by piece, what emerges is a story of dashed hopes, desperate love, and a secret that still cries out for justice...and redemption.
See, sounds good, right? To be honest, I don't have much to say about this, that is good anyway. I found the writing style very simplistic, thought the overabundance of characters with odd names were underdeveloped, and the romance was implausible. The word that keeps coming to my mind is pedestrian. Read something else.