Thanks so much to everyone who left me such caring messages on my last post. I really do appreciate your thoughtfulness. My back is feeling better, but is not
better
- I'm still having pain but I think things are improving slowly.
I have failed miserably at the Non-Fiction Five Challenge. I did read the number of non-fiction books required (actually, more since I read 8 instead of 5) but none of them were on my original list. I think this just goes to show that I am not meant to sign up for challenges. I simply want to read what I want to read when I want to read it. I do feel a bit strange about this, I'll admit. So many people seem to really enjoy doing the challenges, it makes me wonder why
I
don't want to be so 'challenged', that perhaps I am lacking in some way. In any case, this means no more challenges for me and that is okay. For the same reason, I don't think I would make a very good paid reviewer - not that my reviews are any good, but a bit of the pleasure is gone for me when there are deadlines to be met. Thank you
Joy
for hosting this challenge - it's not you, it's me!
*******************************
On to happier things.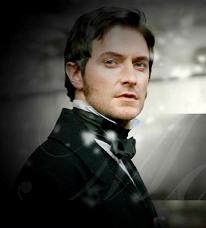 I had the distinct pleasure of watching the BBC adaptation of Elizabeth Gaskell's
North and South
this past weekend. Oh, my. I loved it, I really, really loved it and would say it is one of my favorite 'costume dramas' ever. I haven't read this book, though it is on my nightstand now, and was surprised at the similarities between this and Pride and Prejudice. I thought it was just brilliantly filmed. The scenes in the Northern city of Milton are so drab and colorless and when the action shifts to London or 'the South' the colors and light are so vivid and dramatic. All in all, very well done, I loved the actors in their respective roles and I cannot believe I waited so long to see this.
*************************
I was lucky enough to be the winner of
Karen's
BAFTA drawing this past summer. (There is another drawing going on right now, so do visit Karen and sign up). Karen sent me the lovely book you see here -
A Childhood in Scotland
by Christian Miller and it demanded to be read this past weekend. It is a small book, really that could be my only complaint about it, that I wished it were longer. Childhood is a memoir of Miller's childhood years spend at her family's estate in Scotland in the 1920's and is a wonderful example of what life was like for the upper classes. It is really about day to day life - Miller describes the castle she lives in, how bitingly cold it is, mealtimes, her schooling, the gardens, hunting expeditions - simply a wonderful look at a time gone by. What struck me the most reading this was the experience of children at this time. Certainly Miller's situation was better than most, but reading some the following excerpts made me feel very sad.
"..outside the schoolroom, I was rationed to one question a day"
".. my parents refused to answer me;they looked on my curiosity as mildly amusing, but also as something that should not - because it was a nuisance to grown-ups--be indulged."
"three of the twelve indoor servants....were employed for the sole purpose of making sure that my parents had as little as possible to do with us."
"In my entire childhood, for instance, I only once remember my mother giving me my bath.."
"Our parents never went on holiday with us."
Miller writes at one point that upon her father's death, she is confused as to why everyone expects her to cry - she never knew him, was only frightened of him - why would she be upset?
You could certainly argue that children today have too much say in their own lives and the lives of their families; there must be a happy medium. Thank you so much Karen for such a wonderful book, I enjoyed it thoroughly.
Edited to add: If anyone knows if the castle (as she described it) Christian Miller lived in is currently a place that can be visited, I'd love to know about it. Not that I'll probably get the chance to visit it, but there might be photographs online.